From 25-27 October 2022 the sixth edition of the Future Investment Initiative (FII), powered by the Future Investment Initiative Institute, will be held in Riyadh. It will bring together the world's leading CEOs, policymakers, investors, entrepreneurs, and young leaders to shape the future of global investment and the international economy.
Invest in Humanity, the last year's theme continues to drive our thinking for the upcoming FII. Supply shocks, inflation, an international energy crisis, and geopolitical conflicts present deep challenges, although economic opportunities abound worldwide. This year will include in-depth dialogues about new ways for global investment; analysis of vital industry trends; and unparalleled networking among CEOs, world leaders, and experts.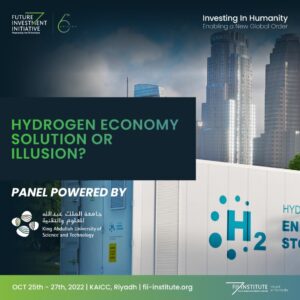 KAUST will lead an impact session on the 25th of October with the guiding topic of: "HYDROGEN ECONOMY: SOLUTION OR ILLUSION?".
Program details can be found here. In the following, there is further information about the Future Investment Initiative.