As part of our effort to reduce carbon emissions, KAUST has pledged to reduce campus energy consumption by 10% between 2015 and 2025, across several fronts.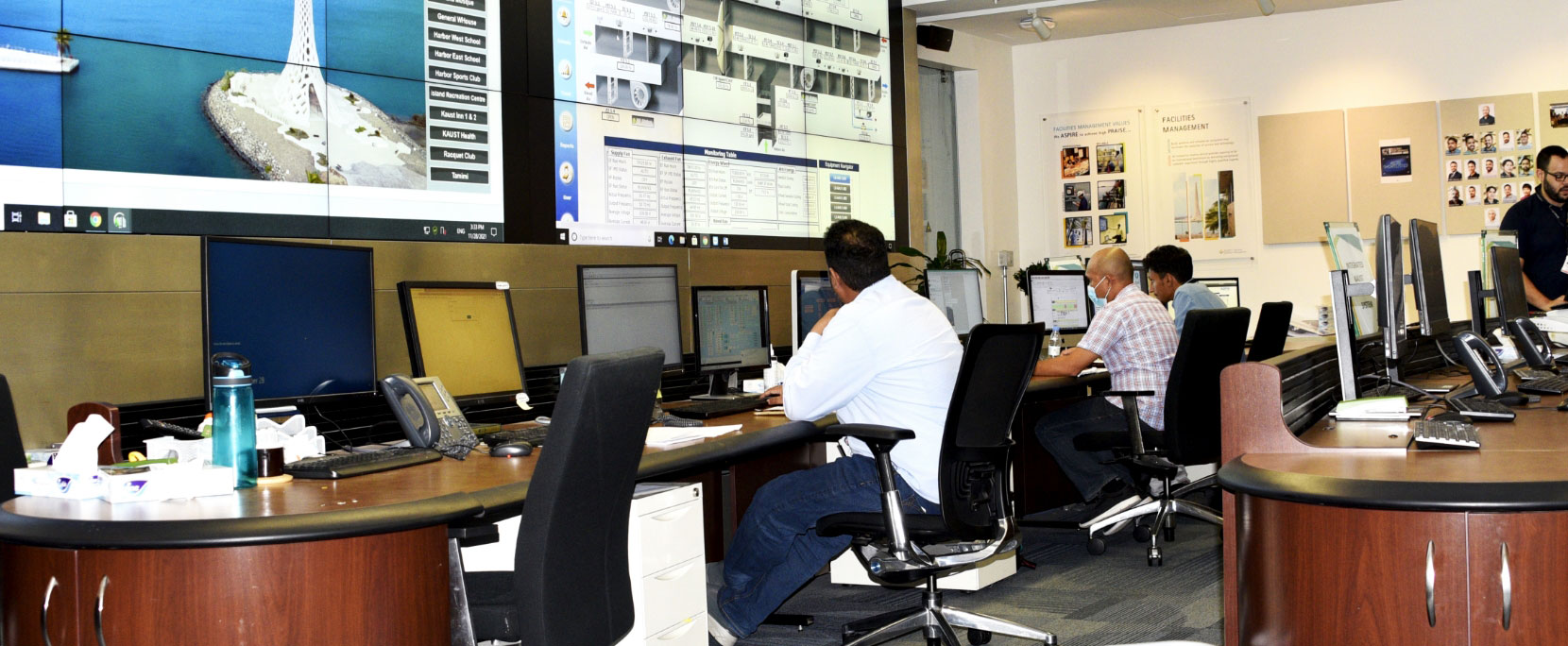 ENERGY & EMISSIONS' MONITORING
The Integrated KAUST Automation System (IKAS) allows the institution's Facilities Management to fully monitor and control all systems including the building automation (HVAC), lighting and power monitoring, fire alarm, and toxic gas monitoring systems, among others.
The operational data acquired through IKAS enables us to continuously monitor and review our energy consumption to identify and mitigate energy inefficiency and fix faulty equipment campus-wide.
IKAS also calculates in real time the carbon emissions associated with the campus energy consumption, giving the teams continuous information which supports efficient management of energy resources to ensure the smallest carbon footprint possible from the campus energy demands.
ENERGY SAVING ACTIONS AND PROGRAMS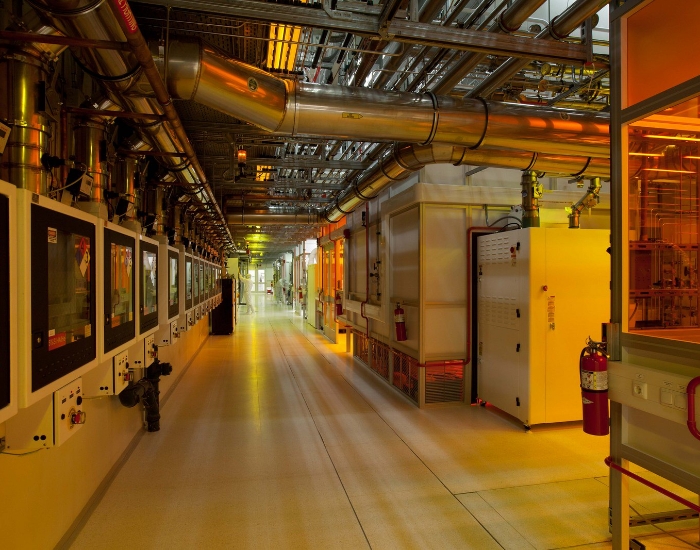 HEATING, VENTILATION, AND AIR CONDITIONING (HVAC)
HVAC systems account for approximately 70% of KAUST's energy use. As part of our energy conservation program, we employ several techniques to reduce airflow and fan operation on campus, making our energy consumption much more efficient.
These include integrating fume hoods and other laboratory equipment with the main laboratory airflow control system; linking the HVAC system with the lighting system; setting lab light timers based on actual lab user requirements and behavior; and implementing the Laboratory Ventilation Management Program in partnership with the Health, Safety, and Environment (HSE) department.
We also routinely conduct awareness campaigns to encourage lab users to turn off laboratory lights as they leave the premises, which reduces energy used by lighting and the HVAC.
Another awareness campaign reminds lab users to close all access doors that are left open for more than a minute. This small effort keeps the ventilation system from operating at maximum levels to compensate for differences in air pressure. Monthly reports on door alarm triggers help sustain this awareness, and have resulted in considerable energy savings.
Automatic adjustment of the off coil temperature set point to the outside air temperature, for all fresh air handling units
Raising the set point in electrical, mechanical, and substation rooms to 25 degrees
Completely shutting down HVAC in unoccupied laboratories
Modifying the run time schedule of fan power box units to turn off in unoccupied mode
Adjusting the run time schedule of the air handling units in all lecture halls, the auditorium, mosques
Completely shutting off variable air volume boxes in unoccupied mode
Forcing all variable air volume boxes to unoccupied mode at all times for vacant offices
Shutting off coil unit fans once desired space temperatures are reached
Locking the temperature set point of all corridor micro sets at 23 degrees
Optimizing the operational parameters of electric heaters in all ductwork
Sc

h

eduling of

H

VAC in mosques by linking IKAS to prayer time open API, optimizing running time by around 38%
Switching HVAC of community schools to unoccupied mode for the entire summer holidays, along with weekends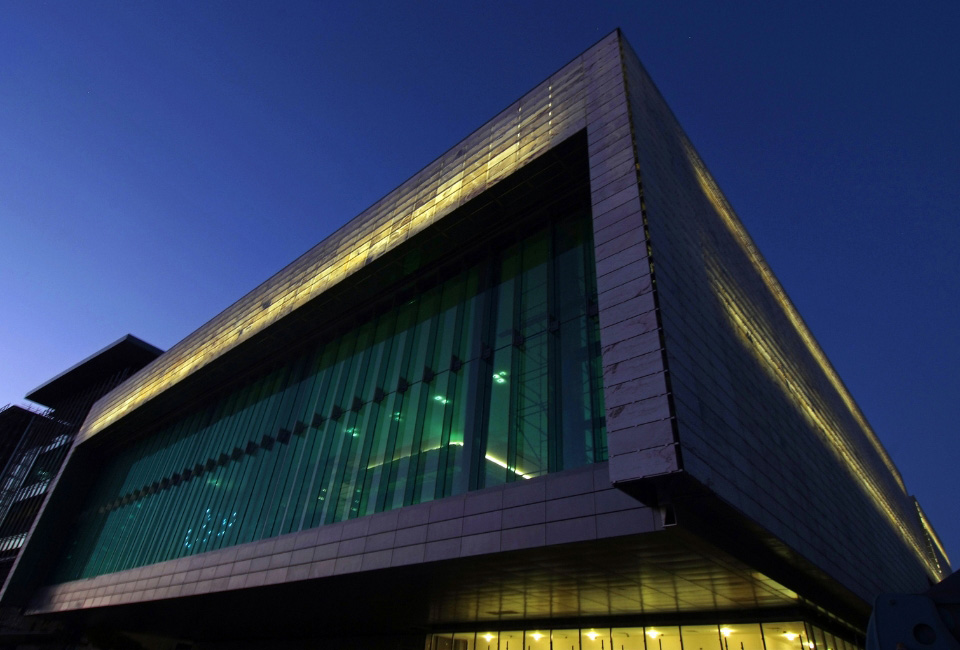 LIGHTING
KAUST's campus-wide lighting system has been upgraded for even higher efficiency with the installation of LED lights and the optimization of light controllers (sensors, dimmers, timers, etc.) according to KAUST's standard on lighting control devices.
Similar to their optimization of the lighting schedule in KAUST laboratories and buildings, efforts were made to improve the campus's external lighting schedule. During the nighttime, post lights, solar tower lights, planters, parking areas, and parapet lights are set to switch off at specific times when an area is not occupied, while still maintaining a safe environment and passage for pedestrians.
UTILITY SERVICES
Several additional energy monitoring systems are used to measure the university's energy consumption and network quality, and to conduct further energy analysis and verification. To further reduce energy consumption, tight energy targets have been adopted for our utility's water desalination, chilled water, and wastewater treatment plants.
We are also saving energy by optimizing our chiller plant, desalination plant, and wastewater treatment plant operations, and by replacing mechanical electricity meters with smart meters in virtually all KAUST buildings and residential houses.
RENEWABLE ENERGY GENERATION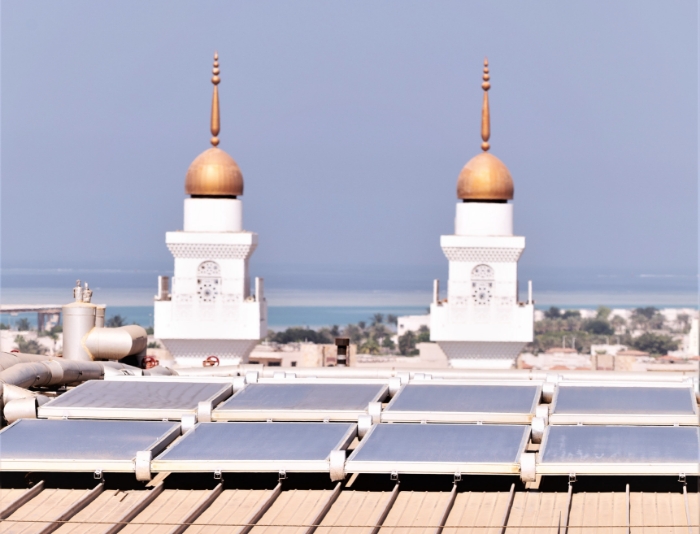 The campus building rooftops have been designed to incorporate massive solar thermal arrays that can provide hot water for domestic use to all buildings, and solar photovoltaic (PV) arrays that can generate and distribute power to campus buildings on demand.
Each solar thermal panel covers 3.8 m2 and has a 182 L capacity that can feed up to five solar hot water storage tanks, for a combined capacity of 29,145 L of water. These holding tanks supply the water heaters on campus, reducing the number of times electric heaters are triggered to produce hot water, further lowering energy consumption.
Our two rooftop solar installations so far cover nearly 12,000 m2, provide a maximum 1 MW output each, and can produce up to 3,300 MWh of clean energy annually. This output should save about 2,062 MT of CO2 emissions annually.
EXPANDING THE GENERATION OF RENEWABLE ENERGY
KAUST has embarked on an ambitious project to increase our share of renewable energy capacity, minimizing our carbon footprint and supporting business continuity. More information will be available soon.