SDG 2
SDG 3
SDG 4
SDG 5
SDG 6
SDG 7
SDG 8
SDG 9
SDG 10
SDG 11
SDG 12
SDG 13
SDG 14
SDG 15
COURSES
KAUST was founded over a decade ago to enhance the welfare of society with a special focus on four areas of global significance—food, water, energy, and the environment. We are built on sustainability.
And we are committed to equipping students with conceptual and practical tools for addressing critical global sustainability challenges. Our academic programs offer an extensive array of graduate courses that cover their subjects in depth while contextualizing them within the UN's Sustainable Development Goals (SDGs).
All of KAUST's course offerings address sustainability. But many of our courses directly focus on sustainability. The following list describes the sustainability component of each of these courses and itemizes the SDGs they address.
PROGRAMS AND INITIATIVES
THE WINTER ENRICHMENT PROGRAM (WEP)
This annual two-week program is designed to unleash the creativity of KAUST students, guests, and audience participants.
Since 2010, WEP has proudly hosted Nobel laureates, CEOs, professors from leading universities, elite athletes, artists, and distinguished regional and local leaders and decision-makers, making it a global hub of knowledge sharing.
Although WEP's theme changes every year, sustainability is a recurring thread in discussions and is reflected across the program's events and activities.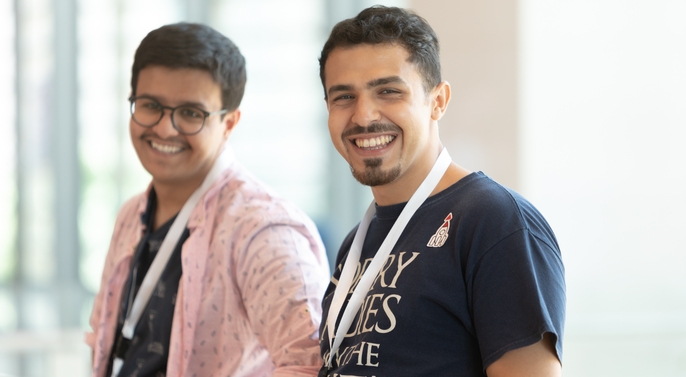 VISITING STUDENT RESEARCH PROGRAM (VSRP)
This unique sponsored program gives students the opportunity to conduct innovative research while offering them an entree to pursue their graduate studies at KAUST. With research opportunities that span the breadth of scientific and engineering fields, VSRP provides students who have drive, an insatiable curiosity, and strong academic performance with an unparalleled opportunity to pursue their research with guidance and support from KAUST faculty mentors.
VSRP accepts students from all over the world regardless of ethnicity, gender, or social background, for an inclusive opportunity to be part of the international research community.